I've been told many times that I see the positive side of people or the best of a situation. Maybe I just grab my "rose-colored" glasses more than my others, but as I go though self-examination, I would have to agree with that assessment.
Of course, when Macomb Habitat went through the COVID-19 shutdown, the optimism I generally exude, seemed dimmed. At one point in late March, I found myself sitting in my pantry filming a live blog asking people to donate to the local food bank because it was the right thing to do. I knew no one was thinking about housing issues when mere survival was in question.
As time passed, the two physical ReStores and a new virtual ReStore finally opened. Wearing personal protective equipment became the norm, and the construction teams unpacked their tools and started working again on partner family homes.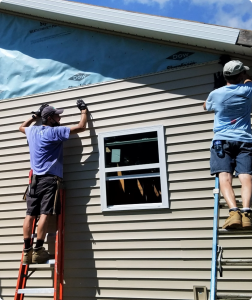 At last, things were looking better, and I felt very positive and inspired.
But then, we examined the financials and the loss of revenue was extreme. We needed a miracle and my positive bubble was not about to pop if I could help it!
WHAT TO DO? WHAT TO DO? WHAT TO DO?
Everyone looked to me and to the leadership team for answers, and we looked to God. We said so many prayers we felt like we were in church.
And one by one, those prayers were answered.
Volunteers began to return. Donors started to send what they could, with one donor making a very large gift. The Development Department became creative and worked to offer a movie night, an auction, a Golf outing and a PPE-infused Gala. Board members made jaw-dropping-sized donations and new people were attracted to our mission of providing community, homes, and hope.
There was no whining or moaning on our end. This team was going to make up that lost revenue somehow and continue to do so as I write. (We have a way to go my friends!)
I, for one, believe we will return to a strong and better place. We have staff who are more committed than most; a board that never abandons us; and a following of volunteers and donors who know their donations change lives.
We have a virtual ReStore in place just in case another wave of COVID-19 closings occur. We have families working on their sweat equity and learning how to save and budget. It's not entirely clear how we will come back full circle. No crystal ball or psychic can tell us how wholeness will occur. Even our amazing accounting firm cannot predict how any of this will happen or unfold.
On my end, I will continue to lift the staff up and thank them for their grace and goodness. I will write grants and actively seek new people with whom we can build a relationship of trust and warmth.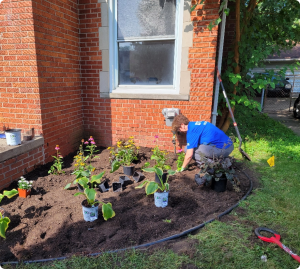 But at the end of the day, once I have settled into my favorite chair with a white wine in hand – I give the balance of the worry to the one additional force that shines a light on our challenges and heals our fears.
GOD.
He can make all things right again. He can pay the vendors, assure the staff, make our office move go smoothly, and work through our partner families so they can hold the keys to their new home and feel the power of pride and success. We will do what we can do and maybe, even do more than that. But in the end, God will be there watching over us and making things right.
Remember, with God, all things are possible. He will not leave us and will always find a way. Please join us as we experience that feeling of healing and love today and every day we believe.
If you have any question, please contact Macomb Habitat at 586-263-1540.